Fortezza da Basso
Viale Filippo Strozzi, 1
The
Fortezza da Basso
is a masterpiece of the military Renaissance architecture, commissioned by Duke
Alessandro de' Medici
, planned by Antonio da Sangallo il Giovane and built between 1534 and 1537.
The Fortezza has been the main
Congress & Exhibition Center
venue for Florence and for central Italy since 1967.
Easily reachable by public transportation, it is located just a few steps away from the main railway station of Santa Maria Novella, the Cathedral of S. Maria del Fiore and the main shopping streets.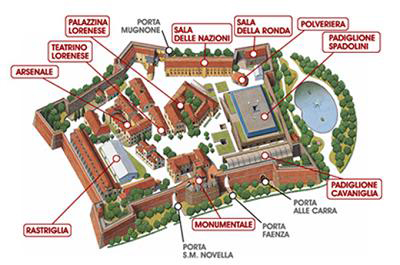 Floorplan

Please click image to download the Plans