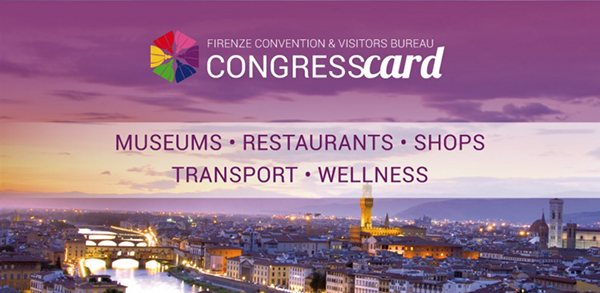 Please do not miss out on the customized IMSC Congress Card
downloadable for free
, valid for your stay in Florence during the conference!
It provides
special offers
and
discounted fees
at museums, historical sites, shops, restaurants, wellness centers, golf clubs, bike rental stands, taxis and car rental agencies.
The Congress Card is not nominal and can be used by the participants as well as by anyone accompanying them. A further bonus is that it is also valid a few days prior to and after the congress date.
The discounts will be granted simply by showing the Card!
Please go to the following link to get the card:
http://www.conventionbureau.it/tmpcardpage/en/congress-card.shtml
and click on "INTERNATIONAL MASS SPECTROMETRY CONFERENCE - IMSC 2018" on the right column of the page.
Activating the Card is very easy: you only need to select the event, download the pdf file with the card and the list of included services after a very quick registration and print it.
The Congress Card can also be available on your smartphone. Just download the App of FCB (Firenze Convention Bureau) on either Play Store or Apple Store and the Congress Card for IMSC will be visible right there.
PLEASE NOTE THAT THE CONGRESS CARD WILL BE AVAILABLE AS OF THURSDAY, AUGUST 23rd